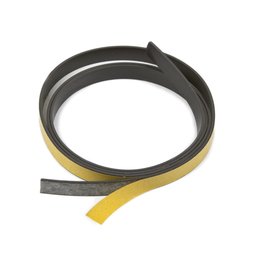 Magnetic adhesive tape ferrite 10 mm
self-adhesive magnetic tape, rolls of 1 m / 5 m / 25 m
Please select your desired model.
Description
The self-adhesive magnetic tape MT-10-STIC can attach non-magnetic objects to metal surfaces.
This magnetic tape is 10 mm wide and available in lengths of 1 m, 5 m, and 25 m. It consists of strontium ferrite and flexible plastic. On one side it is coated with an adhesive. The adhesive force is 102 g/cm
2
. The longer the magnetic tape the higher the adhesive force. For heavy objects, we recommend a large enough magnetic tape.
Self-adhesive magnetic tapes need to be placed, pressed and dried on suitable surfaces. Otherwise, air may be trapped and the tapes may come undone. Please read our
FAQ about self-adhesive products
.
Read about more features and tips
Please note

The self-adhesive magnetic tapes are not a suitable surface for magnets. They would demagnetise the tapes. A better surface for magnets would be our magnetic strips.
Technical data
| | |
| --- | --- |
| Article ID | MT-10-STIC |
| Width | 10 mm |
| Thickness | 1,5 mm |
| Magnetisation | Anisotropic |
| Strength | 102 g/cm² |
| Shelf life adhesive | 6 months (approx.) |
| Weight | 56 g/m |